READ ME FIRST
Steps to getting the most out of this course are in the attached PDF.
All handouts are downloadable (except for a couple of them and you will know which they are).
Scroll to the bottom of the PDF and in the lower left hand corner you will see a link.
---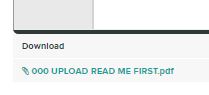 000 UPLOAD READ ME FIRST.pdf